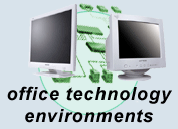 office technology environments
hardware // software // networking // internet connections
Over 20 years experience combined with up-to-date knowledge of the latest trends and technologies means we can equip your business with the very best modern working environment.
Computer Hardware Management
We can help with Information Technology product procurement, installation and maintenance.
Let us manage the operation of your Internet connections, Internet e-mail's, web sites, computer networks, servers, and PC's.
We can support your Novell Networks, Linux servers, and Windows servers.
Office Networks
We can setup and configure your office or home networks. We can even provide the computers.